Worldwide Scouting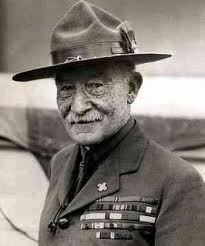 Lord Robert Baden-Powell of Gilwell (1857 -1941) was a decorated soldier, talented artist, actor and freethinker.  Best known during his military career for his spirited defence of the small South African township of Mafeking during the Boer War, he was soon to be propelled to extraordinary fame as the Founder of Scouting.
He had been impressed during the seige at how boys had used their initiative under pressure to make themselves useful and capitalize on limited resources.  Already thinking of developing a training programme for young people in Britain, he was urged to re-write his handbook for soldiers (Aids to Scouting) for this younger audience.
In 1907 he held an experimental camp on Brownsea Island, Poole, Dorset, to try out his ideas.  He brought together 20 boys, some from public schools and some from working class homes, and put them into camp under his leadership.
The whole world now knows the results of that camp.
Some 28 million young people worldwide now take part in the adventure of Scouting and in 2007 the Movement celebrated it's centenary.
Every year Scouts across the world celebrate the birthday of Lord Baden-Powell which is on 22nd February.
The Scout Movement in Alsager
The Scout Group was formed in February 1908, several years later the South West Cheshire district was founded in 1923.
The earliest remembered meeting place was in the Old Pumping Station in Well Lane. This building was situated where the drive to St. Gabriel's School now stands.
During the 1950's the group, under the patronage of Mr. Douglas Frayling prospered and needed to find a larger headquarters. At this time the group comprised of two Wolf Cub Packs and one Scout Troop. The group continued to flourish under the leadership of the Group Scout Leader Mr R. Barratt and in September 1964 a small committee was formed to raise the funds to provide a new and purpose-built Scout Hall.
The committee worked tirelessly and the group was able to embark upon a building programme such that on 7thDecember 1968 the new headquarters was opened by Mr C. Marshall Amor, the Secretary of the Stoke-on-Trent and Newcastle Divisional Scout Council, in the presence of local dignitaries.
The Hall, situated in Cedar Avenue, was named The Frayling Scout Hall in acknowledgement of the assistance given by Mr Douglas Frayling both physical and financial. On 31st March 1970 the group transferred from the South West Cheshire District to Staffordshire Scout County to become the 13th Stoke-on-Trent & Newcastle (1st Alsager) Scout Group.
The Alsager Group continues to do well and its membership has flourished and they currently have in excess of 180 members.